Nashoba Valley Tech Students Tour Quabbin, Inc.
Student's senior project gets powder coat
Quabbin, Inc. employee Dan Frank demonstrates proper powder spraying to Nashoba Valley Tech students
Brian Fillion, Advanced Manufacturing Instructor at Nashoba Valley Technical High School in Westford, MA, recently brought four of his students to Quabbin, Inc. Sophomores Emily Collins, Denis Maguire and Phoenixx Dumas accompanied senior Dorota MacDonald, who has successfully rebuilt a 1968 Fisher Pierce Bearcat outboard motor as her senior project, and she brought it to Quabbin, Inc. to have it powder coated. The students toured the die cutting, quality, and machining areas. Students also watched employee Josh Burnett use the water jet to make a "Nashoba Valley Tech" sign. Quabbin employee Dan Frank demonstrated the blasting, coating and curing steps of the powder coating process and explained why they are important in getting a good product. The students then took turns spraying a truck rim with powder. The parts of Ms. MacDonald's rebuilt engine were also coated and cured – and they look amazing. Nice, job Dorota!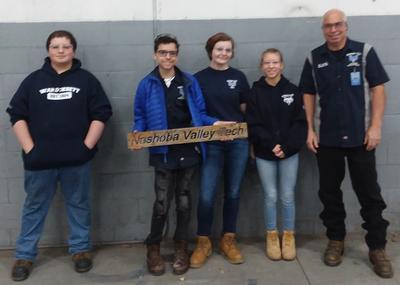 Posted: to General News on Mon, Dec 4, 2017
Updated: Tue, Mar 27, 2018