---
Why switch to Q-Blue nuts?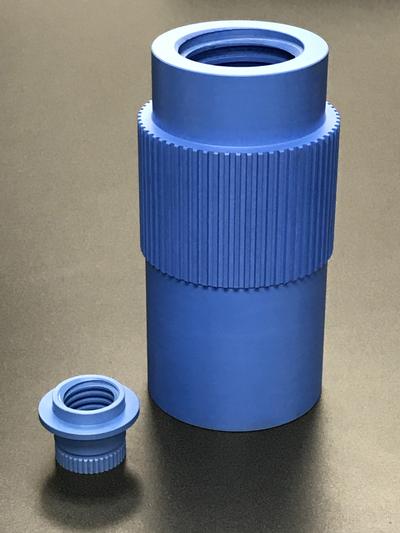 The problem Q-Blue nuts solve:
One of the most common gate operation headaches is maintenance. Traditional bronze nuts require routine lubrication, and the lubricant creates its own issues. Because lubricant is sticky, dirt and debris get stuck in it, plus the lubricant is extruded out over time, both of which cause the friction factor to increase, wearing out the nut and stem. And then it's time to re-lubricate and start the cycle all over again….
How are Q-Blue nuts better than bronze?
As Quabbin, Inc.'s President Mark LeBoeuf wrote recently on LinkedIn, "This isn't your grandfather's plastic!" The Q-Blue is machined from an engineered polymer that is strong, has high wear resistance and, most importantly, contains its own lubricant. Is the polymer strong enough for high-load, modulating-gate applications? Yes. The failure of operator nuts is not typically caused by shear forces, it's caused by wear, so the material doesn't need to be as strong as bronze, it simply needs to function with an appropriate margin of safety (and we perform the engineering calculations for any gate application). The experience of our customers bears this out. We have made Q-Blue nuts for modulating gates with a stem as large as 4.0" in diameter. The nuts lasted almost two years, whereas the previous bronze nuts were being replaced every 6 months. In short: bronze just can't compete!
---
Our Q gage: because size matters!
Our Q gage will help you determine the threads per inch (TPI) on your system's stem, so that we can match the TPI and the fit exactly. This provides you with the correctly-sized replacement parts you need to get your system back up and running.
---
We are uniquely qualified to repair your gates, hoists and valves
More than 20 years' experience making components (In fact, our parts may already be in your facility!)

We make components to fit gates by all major OEMs, so you get one-stop shopping

Replacement components are made to match your system's existing threading

Our large part inventory means reduced lead times for you

We also offer Field Service and Startup
---
Gate components that we manufacture include: